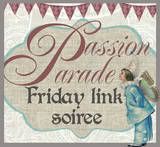 Days gone by so fast! Before I know it, its Friday once again, time for Passion Parade!
I am very excited to present our talented new linkers.
The end of summer is getting near but there is always a time for a nice tropical treat like this Tropical Smoothie from Jodie of
JodieFitz
. Whatever season it is, coconut and mango holds a special place in my heart.
There is nothing more fun than edible art. This is a cute activity to do with your kids! I could imagine Crystelle of CrystelleBoutique having so much fun with her kiddo painting their after school snack!
This gorgeous wreath seemed to look hard to make, but
Kathy of Life On Lakeshore Drive said it was pretty simple! I like how she incorporate the materials and colors and made a festive wreath!
I like stories of great deals and make-overs. Thumbs up for ShabbyGals for the transformation of a mirror from a garage sale and turning it into this lovely chalkboard!
Thank you all so much for sharing your talents at my parade. You are all so wonderful!
Please feel free to grab this button if you have been featured.
I am so excited on what you are about to share this week!
So let's get this parade going but first... just a quick reminder before linking up.
1. Be a follower of Petites Passions. This way I could keep in touch with you.
2. Link the specific post of your entry, and not just your blog link.
3. Please kindly link back by posting
Passion Parade
button so others could join the parade too!
4. This party can also be a treasure hunt, so visit others. Share your passion and win a friend!
If you are a new linker and or a follower, just leave a comment so that I could welcome you and be featured!
If you have a link party, please feel free to pin it on my "Pin your party"
So let's start this parade!