I love link parties. I always imagine how much fun it is to host a blog soiree! It is very exciting to see what our fellow bloggers has to show, so I decided to host a link party here at Petites Passions! I just finished editting my button for it, thanks for wonderful image source The Background Fairy,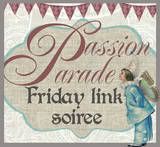 Your passion is worth sharing.
I believe everyone has gifted a passion to uplift and encourage others, be it passion in cooking, writing, stories, tips, tutorials, homemaking, faith, your family, photography, arts and crafts etc!
The Parade will begin on May 4, every Friday.