Happy weekend everyone! So what are your plans for today? Lunch out? Hang out with family or friends? Do a little shopping and hunt for bargain perhaps?
And speaking of bargains, have you ever bought clothes from a dollar store? I did. Well, it was actually .99 cents. I saw it was lonely and no one wanted to buy it :(

Before

After
 

 
It was puzzling at first wondering if this was supposed to be victorian costume or an outdated top, but with a little imagination and a little math (add and subtract), I saw the potential for a cute top!
I thought it would be a great match with my floral skirt I bought at goodwill and with my one dollar shoes!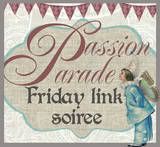 Don't forget, Passion Parade is still on going, so you could still link up your latest projects and creations! It had a little problem earlier because I kept messing-up with the options out of curiosity. Oh Well.