Happy Passion Parade everyone!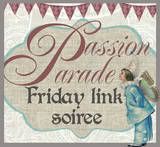 Two weeks of break from blogging felt like I've been missing a lot! It was a busy couple of weeks. We went to LA on the day our in laws had about to head home.
It was a tiring drive but at least I had my passport taken care and renewed. For some reason, for a Philippine passport, I had to show-up in person a wear a proper attire (for passport picture) instead of processing it through mail like my husband's. Oh well, at least it was a nice excuse to see my fellow Filipino friends that's so dear to our hearts.
This is for mumsy
Since we were there, we took the chance to use of our little time to visit the Hollywood walk of fame
Big Fan
We had to take a quick shots of some of our favorite celebrities since the sidewalk was crowded.
He likes jazz
We had so much fun, but I will tell you more about it later, but for now, I'd like to share a couple of new awesome linkers from last week.
Shannon of
Shannon Sews
shared a helpful DIY on how to lengthen an elastic belt. I sometimes see cute belts that are too small for me. Now I don't have to worry about that! Visit her blog for some more cool tips and tutorials.
Thank you all so much for sharing your talents at my parade. You are all so wonderful!
Please feel free to grab this button if you have been featured.
I am so excited on what you are about to share this week!
So let's get this parade going but first... just a quick reminder before linking up.
1. Be a follower of Petites Passions. This way I could keep in touch with you.
2. Link the specific post of your entry, and not just your blog link.
3. Please kindly link back by posting
Passion Parade
button so others could join the parade too!
4. This party can also be a treasure hunt, so visit others. Share your passion and win a friend!
If you are a new linker and or a follower, just leave a comment so that I could welcome you and be featured!
If you have a link party, please feel free to pin it on my "Pin your party"
So let's start this parade!