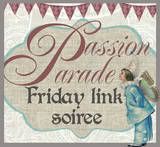 Passion Parade will be a little bit early this week because we will be away from tomorrow until Sunday. We will be heading to Los Angeles!
It has been a very busy past week. We spent more nights in hotels more than we had slept in our apartment.
We were truly taking advantage of my in-law's visit since they came a long way from IL and I am enjoying it immensely!
We finally went to see Grand Canyon. I have to say it did not disappoint us. We all had so much fun! We've created so much memories of laughter.
It was breathtaking. Incomparable to photos I have seen.
The best part of this vacation was we were able to spend time with our awesome mom and dad. Dad and I have always been shutter-buddies. We went crazy taking photos of the scenic beauty of The Grand Canyon. The breathtaking sights at least made me forget the hassle of not having a signal in the middle of nowhere!
Today was their last day. They would be heading back to IL. Though it would be sad to see my mommy and daddy go, but spending time with our dear friends is something to look forward to. It's going to be a great week afterall.
For now, I need to have some rest. Hubby is determined to let me drive tomorrow. It's gonna be an interesting day.
Thank you all so much for sharing your talents at the parade. You are all so wonderful!
I am so excited on what you are about to share.
So let's get this parade going but first... just a quick reminder before linking up.
1. Be a follower of Petites Passions. This way I could keep in touch with you.
2. Link the specific post of your entry, and not just your blog link.
3. Please kindly link back by posting
Passion Parade
button so others could join the parade too!
4. This party can also be a treasure hunt, so visit others. Share your passion and win a friend!
If you are a new linker and or a follower, just leave a comment so that I could welcome you and be featured!
So let's start this parade!