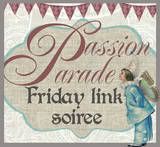 Hello everyone! Thank you so much for your prayers and sympathy for our loved Gregory and his family. I believed your prayers have brought comfort to their broken hearts. It is comforting to know that eventhough Gregory is not with us anymore, we know he is very happy where he is now. That is one reason to celebrate
and speaking of celebration, I bet Americans are celebrating joyfully as they are currently winning the most gold!
Britni of Hubby Made Me shows her support to American Team making this cute star hair band accessory that I think is soo cute! Hope over to her blog to see the tutorial!
This another charming hair accessory is by Laura of Pajama Crafters. Look at that! Isn't this dreamy? If you would like to make one of this, just go over to her blog and check-out her tutorial!
Okay, so this is not an accessorry, but it is something interesting and useful. Jacinda of Yellowcloth shared a recipe for a natural bug spray!

Thank you all so much for sharing your talents at my parade. You are all so wonderful!
Please feel free to grab this button if you have been featured
I am so excited on what you are about to share this week!
So let's get this parade going but first... just a quick reminder before linking up.
1. Be a follower of Petites Passions. This way I could keep in touch with you.
2. Link the specific post of your entry, and not just your blog link.
3. Please kindly link back by posting
Passion Parade
button so others could join the parade too!
4. This party can also be a treasure hunt, so visit others. Share your passion and win a friend!
If you are a new linker and or a follower, just leave a comment so that I could welcome you and be featured!
So let's start this parade!