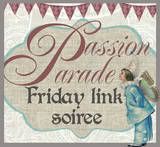 Hello World!
I hope you are feeling well today. I am a little bit under the weather this week. I've been feeling sick since last Tuesday. Even our dog has a bad case of drippy nose.
I am crossing my fingers tightly wishing I would be well tomorrow for my fist day of my job. I am so excited!
While thanksgiving hasn't come yet, some people are getting their Christmas fever going on. Upon seeing the tree, surprised hubby blurted out that it's not even thanksgiving yet.!
Even Yoda gave me the "Ugh, what are you doing?" look.
For some of you who may not know that in Filipino time, I am actually two months behind the schedule.
I am sure others are with me here. I have been seeing some great Christmas inspirations like from Stephanie of
The Enchanting Rose
D.I.Y ornament made of used T-shirts! So don't throw those old shirts just yet ;)
Have you got early Christmas fever too? Be and inspiration and share your creativity here at Passion Parade!


Thank you all so much for linking up here at Passion Parade. It's because of you this party keeps on inspiring many. Please feel free to grab this button if you have been featured
So let's get this parade going but first... just a quick reminder before linking up.
1. Be a follower of Petites Passions. This way I could keep in touch with you.
2. Link the specific post of your entry, and not just your blog link.
3. PLEASE PLEASE PLEASE kindly link back
so others could join the parade too!
4. This party can also be a treasure hunt, so visit others. Share your passion and win a friend!
If you are a new linker and or a follower, just leave a comment so that I could welcome you and be featured!
If you have a link party, please feel free to pin it on my "Pin your party"
So let's start this parade!