Hello! It's Friday once again. Welcome to Passion Parade Link Soiree!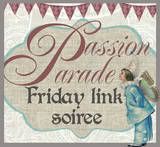 I enjoyed all your posts last week. Now I'd like to share some our new creative linkers from the last parade that you're gonna love!
How about a sweet start with

Angela

of A Typical English Home. Her
easy no bake chocolate cheesecake recipe is to drool for!
Hop over to her blog for recipe or say hi!
So you think this is just another barbecued ribs? Guess again. This yummy stuff right here is totally meat free. A Vegetarian
Are you or your kids fan of Harry Potter? Nikki of Hello Paper Moon shares a school of wizardly inspired gift. This could be a very cool invitation too! Nikki shares templates, fonts and seal to make it really look like it came from Hogwarts! Kids will surely enjoy this.
Thank you so much for sharing your creative crafts, thoughts and recipes. It is because of you all that makes
parade so much fun!
Feel free to grab this button if you have been featured here at Passion Parade Friday!
Thank you all so much for sharing your talents here at Passion Parade. You are all so wonderful and very creative.
I am so excited on what you are about to share this week!
So let's get this parade going but first... just a quick reminder before linking up.
1. Be a follower of Petites Passions. This way I could keep in touch with you.
2. Link the specific post of your entry, and not just your blog link.
3. Please kindly link back by posting
Passion Parade
button so others could join the parade too!
4. This party can also be a treasure hunt, so visit others. Share your passion and win a friend!
I am very excited what you are about to share today!