Hello and Welcome to another week of Passion Parade Friday Link Soiree where you can show and share just about anything you are passionate about!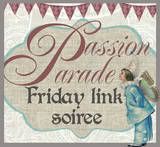 It is trully wonderful to host a link party. It is quite entertaining. PLus, I get to meet new friends along the way whose creativity are just eye catching...
Like Ashley of Ashley's Dandelion Wishes. You might remember making this when you were little. She used this idea as a table centerpiece for her cousin's baby shower. Not only the colors and pattern are fun but, so does playing with pinwheel too!
When I think of summer, I think of citrus fruit and color yellow. This Lemonade Pie recipe by Barbara of 21 Rosemary Lane summed up my summer thoughts. A summer delight so yummy!
This table make-over by Susan of Simply Vintageous will be in my coffee table inspiration. She did an amazing paint job making it a little shabby but classy!
Isn't this wallet so adorable made by Sara of Bichinhos na Cabeca. Hop on to her blog for more sewing inspirations! I should try to make one!
Last week, I shared my Asian Vegan Delight in Peanut sauce at Anything Goes Linky Party. I recieved an exciting news from Mindie of Bacon Time with Hungry Hypo that it is one of her summer features! Thank you so much Mindie!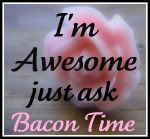 Feel free to grab this button if you have been featured here at Passion Parade Friday!
Thank you all so much for sharing your talents here at Passion Parade. You are all so wonderful and very creative.
I am so excited on what you are about to share this week!
So let's get this parade going but first... just a quick reminder before linking up.
1. Be a follower of Petites Passions. This way I could keep in touch with you.
2. Link the specific post of your entry, and not just your blog link.
3. Please kindly link back by posting
Passion Parade
button so others could join the parade too!
4. This party can also be a treasure hunt, so visit others. Share your passion and win a friend!
So let's start this parade!