Welcome to Passions Parade Friday Link Soiree!!!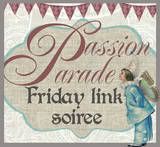 How are you all doing today? I hope you are staying nice and cool. We are experiencing some thunder storms at some parts of Tucson which is very nice compare to what my Dadzy-in-law experienced.
He was driving along the highway when suddenly, he heard an explosion. He pulled over and found out his sunroof exploded probably from the heat! Crazy!
Today was a sweet day as Petites Passions reached big 200th follower on google friend connect!!! **SCREAMS!
And that 200th follower is another awesome blogger named JoAnne of Sweet Pepper Rose. She has a great blog with awesome tutorials like this clay pot wreath!
Also, we have some amazing linkers from last week which are a great inspiration for a party like Stephanie of Life's Creative Journey Rosette cake. I find her tutorial really helpful because I have been wanting to make cake like this!

Next is a Sugar and Spice inspired baby shower by Cindy Jane of Pajama Crafters. I just love how she put the party together with such creative and lovely decors! Check her blog out for more party photos!
When I think of summer, I also think of watermelon! What do you think about this Watermelon Shrim Salad Recipe by Laura of Now Things are Cookin'? I think it's delish!
Thank you all so much for your inspiring creativity!
Feel free to grab this button if you have been featured here at Passion Parade Friday!
Thank you all so much for sharing your passion here at Passion Parade Friday Link Soiree. You are all so wonderful and very creative.
I am so excited on what you are about to share this week!
So let's get this parade going.. but first, just a quick reminder before linking up.
1. Subscribe or be a follower of Petites Passions.
2. Link the specific post of your entry, and not just your blog link.
3. Please kindly link back or simply by posting
Passion Parade
button so others could join the parade too!
4. This party can also be a treasure hunt, so visit others. Share your passion and win a friend!