Let's get this passion party started Woo hoo!
As you know,this is my very first time to host link party and I am so excited what you got to show off. This is the time and place you can share what you are passionate about, be it in passion for cooking, writing, adventures, tips, DIY tutorials, home-making, our family, photography, arts and crafts etc!
There are a few simple rules
1. Be a follower of Petites Passions
2. Link the specific post of your entry, and not just your blog link.
3. Please kindly link back by posting this Passion Parade button.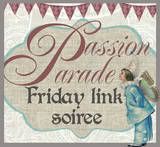 4. This party can also be a treasure hunt, so kindly visit others. Share your passion and win a friend!
to your post so that others can join the parade too!
5. Please no Etsy shop and giveaways.
And in celebration of this big event here in Petites Passions, I have a special give-away to one lucky party guest!
1. Be a follower of this blog, post a comment if you already are.
2. For more chances of winning Simply browse through other linkers who joined the Passion Parade and leave a separate comment. Which was the very first link that caught your attention?
3. , share about this give-away to your facebook status or twitter, come back and leave a separate comment that you did.