Welcome to Passion Parade Friday Link Soiree week #4!!!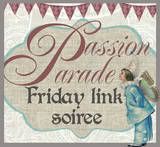 I read that summer in Arizona starts in June. May hasn't ended yet but it feels like mid-summer already! I am the kind of person who could endure heat but I couldn't turn off the air-condition in this Arizona heat!
Aside from gelatos and smoothies, last week's browsing through last week's linkers gave refreshing ways to beat the summer heat!
Heather of French Press shares her super easy recipe of delicious nutella-fudge-pops. Hop on to her blog for more recipes for sweet tasty treats!
This No Calorie Sweet Green Tea by Rebekah of Potholes and Pantyhose sounds refreshing and great drink for weight-watchers and loves green tea. I should try this one.
I always think anything citrus is refreshing. I just love the colors and the idea of using orange soda in this Sunkist Orange Soda recipe by
Mrs. Fox's Sweets
. mmmm.. I love orange soda!
Thank you all so much for linking-up! We all enjoyed your learning from your creativities! Please feel free to grab "I've Been Featured" button :)
So let's get this parade going but first... just a quick reminder before linking up.

1. Be a follower of Petites Passions. This way I could keep in touch with you.
2. Link the specific post of your entry, and not just your blog link.
3. Please kindly link back by posting
Passion Parade
button so others could join the parade too!
4. This party can also be a treasure hunt, so visit others. Share your passion and win a friend!
Happy Linking!