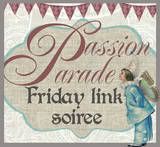 Hello! I hope you are chilling the summer heat away as the temperature gets hotter and hotter. 106 degrees!
My sunblock was not match to the heat of the sun. I still got sunburned no matter how much sun protection I used while working out in the sun for a few minutes. I've never thought I'd love the cooling sensation of aloe this much! Oh well. At least there air-condition, ice-cold drink and your awesome links are great combinations for relaxation!
Alexandar of
Talking Dollar Cents
blog welcomed us to a sweet cold temptation of triple chocolate ice cream sandwich recipe! Just saying the name makes me shiver.... in a good way. Ohhhhh
Most women wants to have vanity table. I know I do. Carolyn of
My Life is a Nutshell
shared her vanity table she made herself and it turned out really nice! I enjoyed her story of how she made it work even in tight space.
Here is a pretty monogram canvas project by lovely Jennifer of
Vintage Gwen
. She shared on her blog how easy it was to make! I've got to find me a fake foliage!
Thank you all so much again for being here. You are all truly a great source of inspiration!

Feel free to grab this button if you have been featured here at Passion Parade Friday!


I am so excited on what you are about to share this week! So let's get this parade going but first... just a quick reminder before linking up.
1. Be a follower of Petites Passions. This way I could keep in touch with you.
2. Link the specific post of your entry, and not just your blog link.
3. Please kindly link back by posting
Passion Parade
button so others could join the parade too!
4. This party can also be a treasure hunt, so visit others. Share your passion and win a friend!
So let's start this parade!