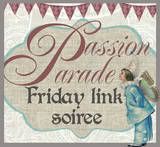 Hello everyone!
Welcome to Passion Parade Link Soiree #8!
I wanted to share a photo collage of amazing women who were included in Cindy Adkin's book Angels at My Door including me! I was able to put a face on names in the book. For those of you who haven't heard of Angels at My Door, the book is about different stories of different people who were touched by heavenly encounters and miracles.
Thanks Cindy for putting together this sweet photo collage :)
Now, leading the parade are awesome linkers from last week.
Do you love vintage mirrors? Check-out Donna's of My Shabby Chateau's mirror make-overs and surely gonna love it like I do! The elegance and beauty reflects the maker ;) Donna is awesome.
I like yogurts, but sometimes flavored yogurts sold in groceries almost taste so artificial. I'm gonna have to try this D.I.Y yougurt recipe by Rebekah of Potholes and Pantyhose.
I am so glad like me, hubby has an exotic adventurous taste. One thing we love doing together is trying out something new like this Shahi Tukray (Royal Bread Pudding) recipe by Ambreen of Simply Sweet 'n Savory. Check out her blog for more delicious treats!
Thank you all for your fantastic shares
Feel free to grab this button if you have been featured here at Passion Parade Friday!
I am so excited on what you are about to share this week! So let's get this parade going but first... just a quick reminder before linking up.
1. Be a follower of Petites Passions. This way I could keep in touch with you.
2. Link the specific post of your entry, and not just your blog link.
3. Please kindly link back by posting
Passion Parade
button so others could join the parade too!
4. This party can also be a treasure hunt, so visit others. Share your passion and win a friend!
So let's start this parade!