Happy Day everyone!
My husband's birthday happened to be in the day as our bible study night, so I thought we celebrate his his special day and share some birthday cupcakes. I made starwars cupcakes which I am shamefully wont show because it didn't turned out the way I wanted to. I still need to practice perfecting it though. However I also made a healthier choice of cupcakes for those who had to limit their sugar for health reasons.
I was browsing on the internet when I stumble on this great blog called
Cupcake Recipes
This art
passionnée lady makes awesome healthy cupcakes she made these cupcakes for her mother who is diabetic on her birthday. It looked so good so I tried the recipe, but I only used strawberries.
Click the link for the recipe here.
It tasted really really good! These cupcakes were gone before the chocolate ones. Even the kids complimented the cupcakes! I am trying this one again!
I will be opening Passion Parade Soiree early today.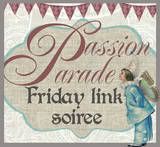 I am so excited on what you are about to share this week!
So let's get this parade going but first... just a quick reminder before linking up.
1. Be a follower of Petites Passions. This way I could keep in touch with you.
2. Link the specific post of your entry, and not just your blog link.
3. Please kindly link back by posting
Passion Parade
button so others could join the parade too!
4. This party can also be a treasure hunt, so visit others. Share your passion and win a friend!
If you are a new linker and or a follower, just leave a comment so that I could welcome you and be featured!
If you have a link party, please feel free to pin it on my "Pin your party"
Linking to:
Fridays Unfolded
I love Fridays Link Party
Flaunt it Friday
Make A Scene Monday
Creative Bloggers Party
Sunday Showcase Party
What I learned Wednesday
Wow Me Wednesday
Anything Goes Linky
simple and sweet