Hello World!
It's that time of week to parade your passion once again! What have you been up to lately? I just finished my pending table project that I've been wanting to work on for a long time.
It all started when a friend gave us an old telescope which I estimate from 60's or 70's. We had the telescope assembled, but the box was a little too big to fit in any of our tiny storage room. And since we've been lacking our living room tables, I thought I could make use this big bulky box and never have to worry about storage space!
I went to Goodwill for a recreational visit and guess what I found? A pair of never been used table legs! So what do you expect I did? I grabbed it and just bought two more identical legs from Lowes.
I used Valspar primer for plastic that happens to work well with wood too! I found this pretty yellowish paint at mis-mixed paint section for $1.25 and painted the legs.
My main plan was to attach the legs directly to the box. It was very tempting but, I din't want to ruin it. I bought the cheapest wood for the base but thick enough to screw the legs on. I also bought top plates...
to easily attach the legs.
I didn't want any exposed wood. Instead of painting it, I used this decorative tape which has the same shade of yellow close to the paint I used.
Voila! I got myself a table!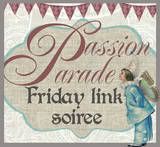 Thank you all so much for linking up here at Passion Parade. It's because of you this party keeps on inspiring many.
I am so excited on what you are about to share this week!
So let's get this parade going but first... just a quick reminder before linking up.
1. Be a follower of Petites Passions. This way I could keep in touch with you.
2. Link the specific post of your entry, and not just your blog link.
3. Please kindly link back by posting
Passion Parade
button so others could join the parade too!