There is an awesome antique mall in Phoenix AZ that's called Brass Armadillo. My Aunt-in-law took me there when we visited. I was overwhelmed witth the number of antique booths. Some of them are ridicoulously pricy but I was surprised there are many very good items for a reasonable price like this foot stool.
I thought the T
hé de Provence fabric me and my mumsy got from a fabric store would look great in it.
It was a little tricky. I took off the original cover and used as a cut-out pattern and sewed the sides.
I would love to keep it for myself but, I have two stools already I think three will be too much! So I will be putting this on my Etsy store for others to enjoy :)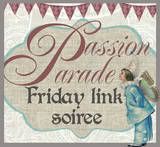 I lost track of the day. I thought it was only Wednesday. Time surely flies by so fast. It is time for Passion Parade Friday party already!?
Here are Passion Parade's featured awesome linkers from last party!
Looks yummy right, but these cutsies from
Wessens-Art
are made of Polymer clays great for charmed accessories! She shared a step by step tutorial on how to make these. I had no idea it's so easy!
This is just one of fall inspired crafts from
Sarah Dawn Designs
.
See her blog for Pumpkin Book tutorial.
And when all that crafting made you hungry, have some, Toasted Coconut and Chocolate Chip Oatmeal Cookies that Kathryn of
The Dedicated House
made. She shared the recipe on her
blog
.
Thank you all so much for sharing your talents at my parade. You are all so wonderful!

Please feel free to grab this button if you have been featured.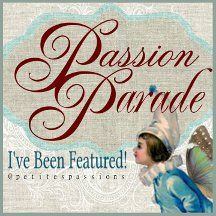 I am so excited on what you are about to share this week!
So let's get this parade going but first... just a quick reminder before linking up.
1. Be a follower of Petites Passions. This way I could keep in touch with you.
2. Link the specific post of your entry, and not just your blog link.
3. Please kindly link back by posting
Passion Parade
button so others could join the parade too!
4. This party can also be a treasure hunt, so visit others. Share your passion and win a friend!
If you are a new linker and or a follower, just leave a comment so that I could welcome you and be featured!
If you have a link party, please feel free to pin it on my "Pin your party"
So let's start this parade!
Partying at:
Blog Stalking Thursday
Throwback Thursday
Transformation Thursday
Time Travel Thursday
Frugalicious Friday
I ♥

Link Party

Fridays
At The Picket Fence
Feathered Nest Friday
Fridays Unfolded
Vintage Inspiration
Fabulous Friday
Anything Goes Linky
What Have You Redone
Show and Tell Friday
Saturday Nite Special
simple and sweet fridays
make a scene monday
motivated Monday
the inspiration board
White Wednesday
Show and Share
Wow Me Wednesday
Wicked Awesome Wednesday
Sew Much Ado
what's it wednesday