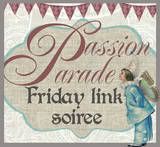 We just got home from our trip, just in time to start today's Passion Parade Friday Link Soiree!
Thank you all so much for your continue support of this party by linking your wonderful projects and blog posts. I've always enjoyed your creativity and learned from your tips and tutorials. I am sure I am not the only one.
Here are this week's featured bloggers. I'd like to welcome and thank
Helen of And Who Says You Can't
for sharing us her 10 picture frame project inspirations!
I fell in love with this autumnal candle tutorial by Karen of
Quintonwench
. Autumn inspiration doesn't have to come only in shades of red and oranges.
I just love make-overs just like what Joy of
A Vintage Green
did to this table she found at garage sale!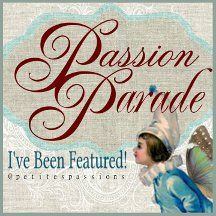 I am so excited on what you are about to share this week!
So let's get this parade going but first... just a quick reminder before linking up.
1. Be a follower of Petites Passions. This way I could keep in touch with you.
2. Link the specific post of your entry, and not just your blog link.
3. Please kindly link back by posting
Passion Parade
button so others could join the parade too!
4. This party can also be a treasure hunt, so visit others. Share your passion and win a friend!
If you are a new linker and or a follower, just leave a comment so that I could welcome you and be featured!
If you have a link party, please feel free to pin it on my "Pin your party"
So let's start this parade!